A nurse in Colorado captured a harrowing photo of the local Marshall wildfires which tore through Boulder County recently. Now she wants to use the photo to help victims raise money.
Wendy Cardona took the photo from the window at SCL Health Good Samaritan Medical Center in Lafayette, on Dec. 30, 2021. The wildfires would go on to burn thousands of acres and force the evacuations of roughly 30,000 people. An estimated 1,000 homes also burned in the devastating flames.
"The surgical technologist and I were getting ready for a case," Cardona told Fox News in an email. "We smelled smoke, noticed there was a commotion and then we were informed to stop opening instrumentation due to the fires.
"I can only speak for myself, but I am deeply saddened at the tragic loss. The loss of homes, pets, and treasured memories," she continued. "This photo has received a lot of attention. I just want to use this in some small measure as a means to help those so deeply affected deal with their losses and this trauma."
What the Wildfire Picture Represents
Cardona also elaborated on her decision to post the photo in a long Instagram post. The picture captures some gritty details of the emergency. Included is a line of ambulances and paramedics heading directly toward the blaze. The nurse also made sure to emphasize the part that medical professionals and first responders play in our safety, similar to that of the armed forces.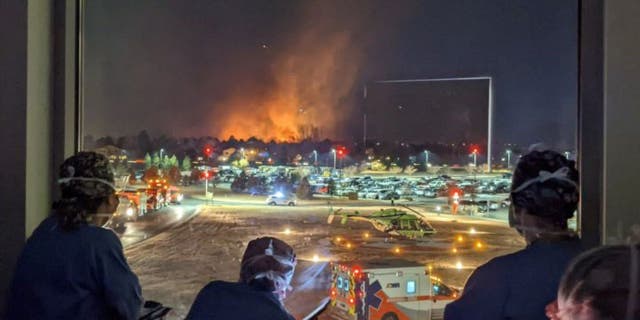 Cardona said she thought the darkness of the hospital room amplified the view of the inferno. A few of her colleagues stood in uncertainty as they prepared for the incoming surge of patients.
Cardona said she hopes the photo, which she shared with local news stations, will encourage donations to her GoFundMe. She named the campaign Project Joy. All proceeds will go directly to families affected by the fires.
"I want this picture not to be remembered for the tragedy it depicts, but rather for the community it brings together," Cardona wrote in part on GoFundMe. "A community that lifts those we do not even know up as best we can to help get the victims through this. Another subtlety that I do not want to get lost in this picture is the brave men and women it shows answering the call to action.
"You can see ambulances lined up outside of this hospital to take patients out of harm's way to the safety of other medical facilities. This same response played out at many hospitals in the evacuation zones with many other medical professionals."
You can make donations via her GoFundMe, as well as through SCL Health Foundation's Emergency Fund.