A horrifying skydiving moment caught last month on video, showed jumping skydivers as their stalled plane fell to the ground.
Photos and video showed the troubled plane in a dangerous but artistic moment on Oct. 14 outside Mosselbay, South Africa.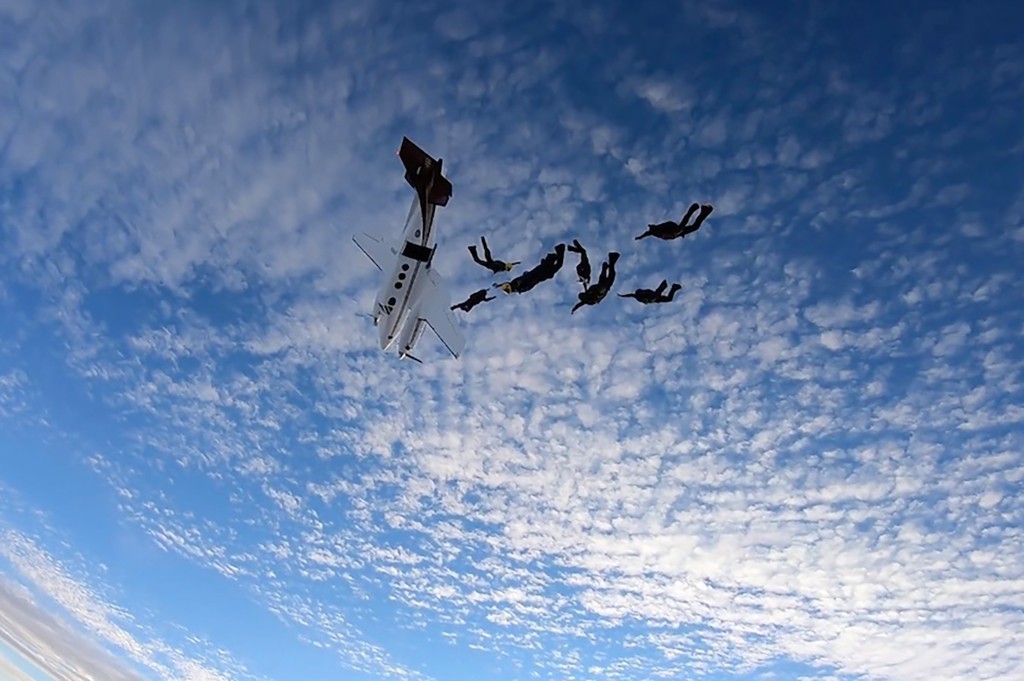 Reportedly, nine skydivers made their jump while four waiting with the pilot fell victim to the plane's maddening descent. Check out the video here.
Fortunately, the plane recovered, no one suffered any injuries, and the New York Post reported the incident.
Amazing Video Of Plane's Descent
The Beechcraft King Air plane was hovering around 16,000 feet when videographer Bernard Janse van Rensburg and his crew opened the door. Things went haywire from there.
"We opened the door and began the climb out. As is normal, the skydive team was fully focused on achieving correct positioning and exit timing," van Rensburg said.
The skydivers were so focused, van Rensburg said, that they didn't notice the signs that the plane was close to stalling.
Van Rensburg said their intense focus on task resulted in many skydivers missing the signs of an imminent stall.
The divers managed to climb outside the plane with the propellers in the background slowing down. Then, just as they jumped, van Rensburg recorded the aircraft started to bank as it went out of control and nosedived as it dropped through the clouds.
A Matter Of Seconds
The videographer said everything happened in a matter of seconds in a surreal moment. The man thought, 'Am I really seeing the plane spinning nose down next to us?'
Fortunately, the plane didn't veer into any skydiver as it fell through the sky. van Rensburg said after witnessing the plane recover, he searched the sky and found his men in their formations safely.
The jump officials reported the incident to the South African Civil Aviation Authority and Parachute Association of South Africa.
According to The Daily Mail, van Rensburg and the jump team made adjustments to their jump procedure with the pilot the next day and "and no further incidents or near-incidents were experienced."
Past Skydiving Tragedy Remembered
While these South African skydivers survived their harrowing plane stall, another group 14 years ago was not so fortunate.
According to the Associated Press, ten Seattle-based skydivers died Oct. 7, 2007. The Cessna Caravan 208 they used crashed when the pilot lost control of the plane in Idaho's Cascade mountains at night.
The plane crashed on a Sunday, and searchers found seven of the ten bodies the next day. The rugged terrain made recovery efforts difficult for the 35 volunteers. 
Plane investigators told the Yakima County Sheriff that the debris indicated that the plane went into a steep nosedive before crashing. Also, the National Transportation Safety Board said the pilot suffered from hypoxia and wasn't qualified to fly in the weather conditions.